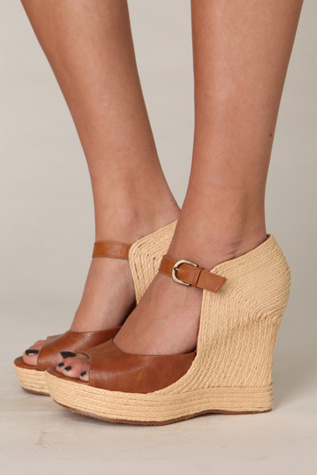 I fell in love with those FREE PEOPLE wedges the moment I saw them. I'm currently looking for a pair of wedges anyway, and those were some of the coolest sandals are saw so far, plus the price, Euro 62.35 fit in my price range just fine. And I might have already gone ahead and ordered them had I not spotted the "Reviews & Fitting" section, containing 2 comments. The first review was mild, though not especially favorable; the second was quite negative, criticizing a number of QUALITY aspects, and both ended with the authors claiming they'd be returning the shoes.
Naturally that cooled down my excitement, especially considering that I'm generally cautious about buying SHOES online - it's so unpredictable when it comes to feet! But at the same time I couldn't help thinking how thankful I was to Free People for not only allowing comments on their product pages, but also NOT deleting the negative ones! ONLINE shopping is a tricky world, full of possible mishaps, and it's nice when someone gives you a warning.
Of course there is every possibility that the 2 commentators were not truly honest, just feisty or annoyed with the store for whatever reason. But if they were right, they possibly saved me time and disappointment since I'm not a big fan of returning goods do the store, especially by mail and especially in Greece were the post office is only open 5 days a week till 2 p.m. I wish more ONLINE SHOPS where like Free People, but not likely - who wants bad publicity?